News
How Much Does an Heir Search Cost?
By: HeirSearch
Locating an estate's heirs is essential for the lawful distribution of an intestate person's assets. However, the inherent disparity in search type, scope, and magnitude begs a frequently asked question in the heir search industry: "How much does an heir search cost?"
The answer is not so simple since no two searches are exactly alike. How much an heir search costs will vary significantly based on the selected service provider and the nature of your search.
Let's delve into the two main types of heir search service fees—percentage-based and non-percentage-based—and other factors that contribute to an heir search's cost.
Types of Heir Search Service Providers
There are two main types of heir search service providers with distinct cost structures:
Percentage-Based Fees (Also Called 'Heir Hunters')
As the name implies, percentage-based fee firms charge for their work based on a percentage of the estate in question. Such firms monitor court filings to locate probate records of estates with unknown heirs and then conduct preliminary research to identify unwitting heirs to sign percentage-based contracts. This often results in heirs signing away an unknown amount of their inheritance, which can sometimes be as much as 30-50% of what they're lawfully entitled to.
Non-Percentage-Based Fees
Non-percentage-based fee firms, like HeirSearch, charge a flat or hourly rate for their services, maximizing the estate's value for heirs. As authorized by the estate administrator, these firms quote costs in advance, which are determined by a set fee schedule based on the type of search and your distinct requirements – never as a percentage directly negotiated with the heirs of the trust or estate.
Let's look at an example that demonstrates the difference in cost between these two types of heir search service providers: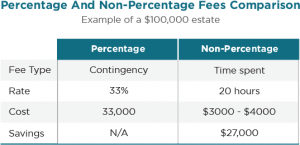 Consider an estate valued at $100,000. If it takes 20 hours to locate the estate's heirs, an heir hunter charging 33% of the estate's total value would cost $33,000. In contrast, an hourly firm charging between $150 and $200 an hour for the same search would cost $3,000, saving the estate's heirs $27,000 for the same amount of work.
Concerns with Percentage-Based Fees
The legal profession has long since raised concerns about heir hunters and search firms charging percentage-based or "contingency" fees. These heir hunters often withhold the name of the deceased and even the amount of the inheritance until the heir(s) agrees to sign a contract forcing them to relinquish a substantial portion of the estate they're lawfully entitled to. This approach is excessive to heirs and beneficiaries and risky to the legal professionals with a fiduciary duty to act in good faith on behalf of their client(s).
A Better Way: Flat Hourly Rate Fees
Hourly fee-based heir search firms, like HeirSearch, provide thorough, professional search services that commence only with the written authorization of a legal professional. Unlike percentage-fee-based heir hunters, firms like HeirSearch help legal professionals fulfill their fiduciary duty reasonably, efficiently, and with less fiduciary risk. That's why we can confidently say that We Find Missing Heirs a Better Way™.
HeirSearch's Fee Structure
HeirSearch charges reasonable non-percentage-based fees. All fees are quoted in advance and determined by a set fee schedule based on the type of search and your requirements – never as a percentage of the trust or estate. We will never exceed our initial authorized number of hours without your approval. Should additional hours be required to complete your search, we will advise you in advance and obtain approval prior to proceeding.
Additionally, HeirSearch's searches are fully insured. For the protection of all concerned parties, we maintain corporate insurance coverage for errors, omissions ($2,000,000), and/or general liability ($5,000,000).
Do You Need Help Establishing Heirship for Probate or Trust Termination Purposes?
While the cost of an heir search can vary, choosing a service provider that charges a flat hourly rate, such as HeirSearch, ensures that the estate's heirs receive more of what they are lawfully entitled to. This approach reduces the overall cost of the search and helps legal professionals fulfill their fiduciary duty as reasonably and efficiently as possible while decreasing fiduciary risk.
So, if you're a legal professional facing the challenge of locating a missing heir or beneficiary in an estate or trust matter, HeirSearch can help.
Our professional researchers identify and locate missing or unknown beneficiaries and heirs for probate and trust termination. We work with executors, administrators, trustees, fiduciaries, bank and trust officers, and their counsel to establish kinship and identify shareholders for legal purposes.
Since 1967, we've completed tens of thousands of worldwide searches. And we proudly offer no-cost, no-obligation consultations, court-ready reports, and reasonable, non-percentage-based fees.
Feel free to reach out with any questions — we look forward to connecting!
Phone: +1 (800)-663-2255
This report is for informational purposes only and is intended only as a reference. HeirSearch does not endorse or recommend any of the products or services offered in the third-party articles or content contained within. We cannot guarantee the accuracy or effectiveness of the same and will not assume any liability related to the same. Additionally, nothing contained herein may be construed as legal advice. All offers are void where prohibited by law. Copyright ©2023 International Genealogical Search Inc. All rights reserved.