News
Estate and Gift Planning Awareness Month
By: HeirSearch.
For many of us, the Fall season represents an opportunity to spend more time with our families and loved ones. It's a truly wonderful time of year.
October, rather fittingly, is also recognized in the legal community as Estate & Gift Planning Awareness Month – and it's a perfect chance to reflect on the importance of advancing your legacy while providing for your loved ones through estate and gift planning.
In partnership with The Financial Awareness Foundation, HeirSearch encourages legal professionals like yourself to join the Improving Financial Awareness & Financial Literacy Movement by recognizing October as Estate & Gift Planning Awareness Month.
Marked Increase in Estate & Gift Planning Since 2019
The National Association of Estate Planning Councils (NAEPC) estimates that over half of American adults don't have an up-to-date estate plan. The domino effect of COVID-19, the war, inflation and general economic uncertainties has significantly hindered many Americans' financial flexibility, spurring an increased (and completely reasonable) focus on short-term savings.
It's important, however, to keep long-term estate and gift planning as part of your client's overall financial picture during times of economic strain. Focusing too narrowly in the short term can have costly consequences in the long term. Are you touching all the bases?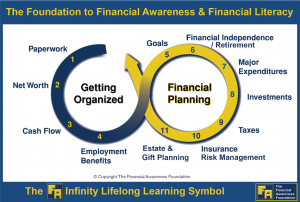 66% of Americans often don't establish a will or trust due to a perceived lack of assets, and 1 in 3 Americans claim they don't have enough wealth to leave their loved ones. However, even those without significant real estate assets, 401ks, or other investment portfolios can benefit from creating a will, powers of attorney, and maybe a living trust early on. If you get sick, who will make financial decisions for you? Who will make health care decisions for you?
This wider understanding of the importance of financial, estate and gift planning has made its way into the minds of many young Americans. Post-pandemic, there has been a marked increase in Americans aged 18-34 looking ahead by preparing and organizing their financial, estate and gift plan documents. These people are great prospects for your services and acknowledge the importance of being financially aware and financial literate.
Estate & Gift Planning Resources and The Next Steps
Promoting Legacy Planning during Estate & Gift Planning Awareness Month is a great way to develop deeper relationships with your clients and enhance your value to them. It is a valuable community service and a very powerful practice development tool. To learn more about how you can help solve a Major Epidemic, while you take your practice to new heights click here.
Educating your clients about taking inventory of tangible and intangible belongings, encouraging them to review beneficiaries regularly, and discussing probate laws in accordance with relevant state laws are all part and parcel of Estate Planning awareness. At HeirSearch, we know that estate and gift planning is critical to overall financial health, aiding in goal setting while minimizing financial risk to your client's loved ones.
Do you need help establishing an Heirship?
HeirSearch's professional researchers identify and locate missing or unknown beneficiaries and heirs for probate. We work exclusively with executors, administrators, trustees, fiduciaries, bank and trust officers, and their counsel to establish kinship for legal purposes.
Since 1967, we've successfully completed tens of thousands of worldwide searches. We are proud to offer no-cost, no-obligation consultations, court-ready documents, and reasonable, non-percentage-based fees.
Feel free to reach out with any questions — we look forward to connecting!
Phone: +1 (800)-663-2255
This report is for informational purposes only and is intended only as a reference. HeirSearch does not endorse or recommend any of the products or services offered in the third-party articles or content contained within. We cannot guarantee the accuracy or effectiveness of the same and will not assume any liability related to the same. Additionally, nothing contained herein may be construed as legal advice. All offers are void where prohibited by law. Copyright © International Genealogical Search Inc. All rights reserved.