News
Celebrating Financial Literacy Month with The Financial Awareness Foundation
By: HeirSearch.
Spring is in full swing, marking a time for reflection and the prospect of rejuvenation and growth in the coming months. As such, it's an ideal time to observe Financial Literacy Month—a nationwide initiative celebrated each April annually—promoting awareness of the importance of keeping ourselves and our families financially secure through properly managing our finances, estates, and gifts.
Financial Literacy Month is a biannual event adopted by The Financial Awareness Foundation (TFAF) to address the significant knowledge gap in personal finance education. Through its extensive community resources, TFAF proactively engages various industries, organizations, and educational institutions in this critical endeavor. This campaign is especially vital with thousands of Americans retiring daily and families across the country struggling with mounting debts.
Here, we'll dive into the campaign's primary goals and touch on TFAF's role as a leading financial literacy advocate.
TFAF: The People's Financial Awareness Advocate
TFAF organizes two value-based strategic campaigns yearly of The Improving Financial Awareness & Financial Literacy Movement:
April as Financial Literacy Month and
October as Estate & Gift Planning Awareness Month
Both campaigns feature educational and motivational content, helpful tools, and literature to inform the public about financial decision-making and encourage the public to get their financial house in order with a current financial, estate, and gift plan.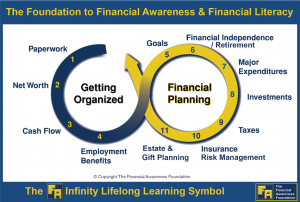 At HeirSearch, we proudly support The Financial Awareness Foundation and urge our peers in law, finance, planned giving, non-profit, and education to join us in promoting financial awareness.
The Foundation aims to tackle the prevalent social issue of low financial literacy and awareness. They strongly believe in teaching financial literacy and essential smart money principles. This equips people with the knowledge and tools to make informed financial decisions, achieve their financial goals, attain financial security and freedom, and pass on their assets and values to future generations, creating a better world.
As a legal professional, you can raise awareness by involving your organizations, employers, municipalities, and the media by actively supporting The Movement. This initiative strives to alert, educate, motivate, and assist everyone to cost-effectively create and update their financial, estate, and gift plans.
Want to get involved? Visit TFAF's website to learn more about the campaign and why improving our collective financial literacy is more important than ever before.
Financial Planning: a Lifelong Process
Financial planning is an ongoing process that involves setting and achieving long-term financial goals, adapting to changing life circumstances and preparing for unexpected events such as job loss, illness, or natural disasters. This process requires regular review and adjustment because people's financial needs and goals change as they move through different stages of life. For instance, financial priorities may shift from saving for a home to saving for a child's education and eventually to saving for retirement.
In addition to changing personal circumstances, economic conditions, tax laws, and investment markets can evolve over time. To ensure their financial plan remains effective, individuals must adapt their strategies accordingly by regularly reviewing and updating them. This continuous process helps individuals achieve their financial goals throughout their lives.
The Financial Awareness Infinity Lifelong Learning Symbol is depicted as an infinity sign, representing the ongoing nature of the process. After you've tackled Getting Organized and Financial Planning and have learned the fundamental principles of smart money—the cornerstone of personal finance knowledge—it's just a matter of regularly reviewing them and updating any areas that need attention.
We invite you to share this quick quiz with your clients and broader network (or take it yourself!) to enhance their financial literacy and understanding. To stay connected with TFAF, sign up for their mailing list and receive valuable resources directly to your email.
Financial Success Keys: Stay Organized, Plan Wisely
As previously discussed, achieving and maintaining financial success and security requires forethought, strategy, and ongoing management. This simple yet powerful process helps people make better everyday money decisions, allowing folks to turn their personal and family dreams into reality.
TFAF provides comprehensive tools, content, articles, and publications focused on helping folks improve their financial awareness and literacy, such as:
You & Your Family – to make better informed lifelong money decisions to build wealth for a better life.
Financial Service Professionals – such as attorneys, accountants, bankers, trust officers and private fiduciaries, realtors, insurance brokers and agents, investment brokers and agents, wealth managers, and financial advisors, benefit by acquiring new business from more informed and motivated clients.
Government Officials, Employers & Association Leaders – to help solve a major social challenge revolving around the Lack of Financial Awareness and the Financial Illiteracy Epidemic while growing the economy and reducing social welfare costs.
Universities & Colleges – benefit by helping to financially educate students, faculty, staff, and alums, to make better lifelong informed money decisions so they are less financially stressed, more productive at work, and live enjoyable, successful lives. This will also make them more philanthropic with increased donations, planned gifts, and bequests to their schools and other worthy causes.
HeirSearch: Supporting Financial Wellness
HeirSearch assists legal and trust professionals mitigate financial risks and fulfill their fiduciary duties. Our fees are always reasonable and based on specific search requirements, and we never charge a percentage-based fee. If you require assistance establishing heirship for legal purposes, we offer no-cost, no-obligation consultations, regardless of whether you plan to initiate a search immediately.
Since 1967, our professional researchers have successfully conducted tens of thousands of searches worldwide. We provide qualified assistance in identifying and locating missing heirs to estates, earning a 97% success rate across tens of thousands of searches since our inception.
As the industry's trusted heir finders, We Find Missing Heirs a Better Way®. We can help solve even the most complex cases, spanning multiple genealogical connections and geographies.
Please reach out to us if you have any questions. We look forward to connecting!
Phone: +1 (800)-663-2255
This report is for informational purposes only and is intended only as a reference. HeirSearch does not endorse or recommend any of the products or services offered in the third-party articles or content contained within. We cannot guarantee the accuracy or effectiveness of the same and will not assume any liability related to the same. Additionally, nothing contained herein may be construed as legal advice. All offers are void where prohibited by law. Copyright © International Genealogical Search Inc. All rights reserved.